Remembering Those Sworn to Protect
Veteran flag cases are beautiful, long lasting memorial products designed to display the cherished flags that represent the past, present, and future of this great nation and the dedication of those sworn to protect it. The United States is the only country in the world that traditionally gives the nation's flag to each family of a deceased military veteran. This amounts to more than 600,000 American flags issues every year, and veteran flag cases are commonly used to preserve those flags in a variety ways. Veteran flag cases are also often used to help preserve the memories of deceased firefighters, police officers, or American dignitaries.
While veteran flag cases are traditionally displayed during memorial services and then use as part of permanent memorials to veterans, they do not have to be used exclusively for memorial services. Veteran flag also make for good gifts or for use at flag retiring ceremonies for any of the 250,000 flags that are flown briefly over government buildings to commemorate birthdays, honors and other special achievements. No matter what their use, veteran flag cases are a great way to display, preserve and protect cherished, patriotic memories.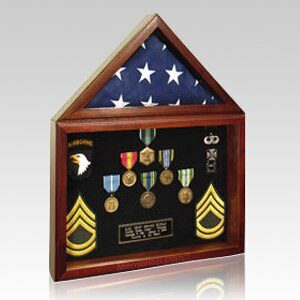 Veteran flag cases are ideal for current or retired military or other uniformed service people, but they can also be used to display medals and other items of memorabilia such as medallions, coins photos, pins, citations, badges etc. Some veteran flag cases are mounted on a shadowbox that will display certificates or mementos. Wall mounting kits are included with veteran flag cases, but you should also consider displaying your veteran flag case on a pedestal that, by elevating the flag and flag case, focuses the attention to the flag.
While most veteran flag cases are intended to be mounted to a wall, some veteran flag cases are more suitable in a mantle or table display. Larger veteran flag cases, particularly those which include the "shadowbox" or additional area to feature medals, patches, pins, or memorabilia, can weigh in at upwards of 30 pounds when filled, so caution should be taken when mounting these models of veteran flag cases.

Any government issued flag that has been folded according to the strict, historic traditions of the United States will fit into a veteran flag case. The typical memorial flag (casket flag)measures 5′ x 9.5′, however flag sizes do vary. Commemorative flags typically measure 3′ x 5′ or 4′ x 6′. Veteran flag cases will fit one size or the other – give or take an inch or 2, so it is important when choosing your case to know the size of the flag you have selected to go into a flag case.
Veteran flag cases are usually made of different types of wood such as oak, walnut or mahogany and come with a glass or clear front so you can see the flag. For that special memorial touch, veteran flag cases generally come with engraved metal or brass plates on which the special memorial words can be displayed. Regardless of the material used, a veteran flag case will create a wonderful military tribute that will preserve the legacy of a true hero for generations to come.