Veteran Programs on How to get Assistance from the Military for a Funeral
The United States of America takes great pride, and devotes a great deal of resources, in making sure that its military veterans are properly honored posthumously for their service. More than 130 national veterans cemeteries (and many more similar cemeteries run by state and local governments) assure that every active duty or honorably discharged veteran of every branch of the United States military can receive a free or reduced cost memorial service upon his or her death. Many other developed nations do not offer such a service to all military veterans and, in that sense, the United States program can be said to be an envy of The Globe.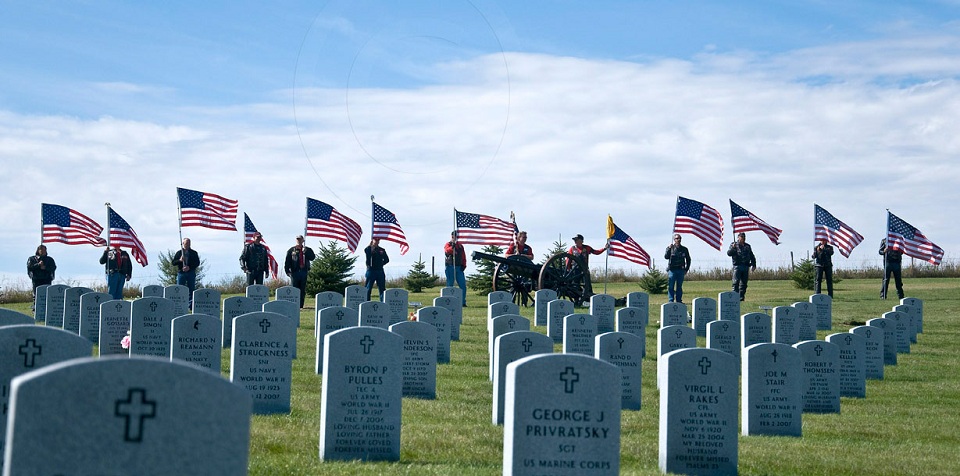 Military caskets are an important part of these services that the nation holds for its veterans. And, while caskets are but one part of the whole picture of a military funeral and burial, there are some aspects to military caskets that may be different from what many families may expect – military caskets may even be confusing.
So, we have assembled this short article that may help clear up the confusion. That is our hope, at least.
Caskets are Not Specifically Covered Under VA Benefits:
The first thing to understand about military caskets is that they are not mentioned specifically in the public laws that relate directly to the program providing burial and funeral benefits from residents. This is because the U.S. government is careful to give veterans and their families the choice of whether they intend to be buried in a veteran casket or cremated – with ashes displayed and stored in a military cremation urn. Some families, therefore, require a casket while others need simply a cremation urn. Allowing for this choice is a big reason why the United States government's law formerly requires that the military pay directly for such things as a grave plot, headstone, and a memorial flag to be presented to the family at the funeral. But it leaves other options covered under a "burial or funeral expense reimbursement" program.
The drawback to this program is two fold for those whose family or loved one desires a military casket. First is the word "reimbursement." This means, of course, that the charge for anything not explicitly paid for by the government must be paid immediately by a family's private funds and then be returned later, once receipts have been filled and request forms have been completed.
And, then, of course, the total to be reimbursed does not usually cover the entire amount for a military casket. For soldiers whose death occurs while he or she is on active duty, the total to be reimbursed is up to $2,000. For all other veterans, the total is up to $700. It is true that some military caskets can be found that cost less than $2,000, but such finds are not typical. In most cases, a military casket will cost at least $3,000; often they will cost up to $6,000.
The good news for military families is that many funeral directors will wait for the reimbursement check to arrive from the Veterans Administration before collecting the full amount due for any purchases the family makes.
Options for Military Caskets:
Probably the best place to buy a military casket is from an online retailer who specializes in memorial products. These establishments often have a much larger selection of military-specific caskets than funeral homes – which must cater in the limited space of their showrooms – to many customers whose loved ones are not necessarily members of the military. When you check these sites, you will quickly discover that a huge variety of options are available. Caskets can be purchased that are outfitted with compartments that hold medallions or other memorabilia from a person's military career. They can also be adorned with painted designs that pay tribute to the United States in general and to a specific branch of the military.
Contrary to what some may believe, ordering these military caskets for delivery to a funeral home that is arranging memorial service is a relatively simple matter. In fact, though they will not often volunteer this information, funeral homes are, indeed, required by law to allow customers to use caskets purchased elsewhere as part of services they arrange. Any statement or policy to the contrary is in violation of rules established by the Federal Trade Commission, the federal agency that enforces laws related to anti-competitive practices. In most cases, a casket can be delivered to a funeral home within about 72 hours, well in time for it to be used just about any funeral service.
For those families wanting to keep their loved one's burial expenses to a minimum – possibly even keeping them to within the amount that will be reimbursed by the Veterans Administration – many low cost options are available for military caskets. Probably the best way to keep casket costs to a minimum is to purchase the simplest model available through a funeral home or retailer. (Usually the online retailers will offer the lowest prices, of course.) These models will, admittedly, not feature the sophisticated artistry that the must more expensive editions will have. But they can be adorned with an American flag draped across the casket during a memorial service, giving the military casket all the patriotic design that many families can desire. In many cases families that exercise this simplest option request that the flag be ceremonially folded into the famous triangle shape and then presented to the family at the conclusion of a memorial service, just before the burial. (It is important to note that federal law prohibits a flag from being buried with a body. American flags are always to be disposed of – only when they are torn or faded by years of use – by burning.
When it comes time for a family to honor the military memories of a soldier or veteran, there are always plenty of options and help. If you are confused about the options available, the best place to turn for answers is the Veterans Administration itself. Funeral directors are also known to be a good source of information about benefits families are entitled to under federal law. But, for the most accurate and reliable information, contacting the VA directly is probably the best choice.