Remembering American Military Heroes
Military flag cases are the perfect memorial tribute to current or retired military personnel or other uniformed service people such as firefighters or police. Military flag cases give the American flag a dignified, finished look when displayed, and they can play permanent host to treasured medals and other items of memorabilia such as medallions, coins, photos, pins, citations, badges etc.
Military flag cases can be purchased to display the flag that each United States military veteran receives upon his or her death. The United States is the only country in the world to practice this tradition of presenting military families with flags, and the government gives about 600,000 flags each year, almost all of which end up in military flag cases.
Military flag cases also often house the estimated 250,000 flags that are retired each year after being flown ceremonially over capital buildings or other United States landmarks. These flags are often flown in recognition of birthdays of honored military veterans or other special achievements. After their triumphant appearance over an American landmark, the flags are then often permanently displayed, beautifully, in military flag cases that capture for the ages the memories of the people the flags recognize.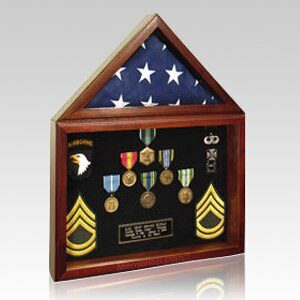 In general, military flag cases, come in two main styles. Some models, such as Presidential and Heritage military flag cases, are hinged and open from the front. And others military flag cases do not have hinges and must be opened from the back with a screwdriver. The tops of most of our military flag cases are made of glass and, therefore, the flag is visible even when the top is shut. The Heritage line of military flag cases, however, has a wood front. Therefore, the flag is visible only when the case is displayed open.
Any government issued flag should fit in any of our military flag cases. The standard size is 5″ by 9.5″ Your flag should be folded according to strict, historic traditions. Wall mounting kits are included with all of our military flag cases, and engraved plates can also be attached, with an adhesive back, to the military flag case itself.
Most military flag cases come with a free engraving plaque so that the case, and, accordingly, the flag, can be personalized. Military flag cases also, typically, come with a free wall mounting kit, but wall mounting is just one display option. Military flag cases can also be placed on a wood pedestal, which is available in matching wood, or on a metal stand.
A variety of flag case display accessories are also available for military flag cases. Customers may, for example, consider displaying military flag cases on pedestals that, by elevating the flag and military flag case, focuses the attention to the flag. Some companies offer beautiful pedestals for the military flag cases that can be personalized with names, dates and a service emblem.