Flag Display Cases and Military and Veteran Honors
Flag Cases are generally used to preserve and display the American Flag in honor of a deceased military veteran, firefighter, police officer, or dignitary. Flag cases are also used to display flags having some historical or memorable significance.
Each year more than 600,000 flags are presented to military personnel and their families in honor of dedication and service to their country. An additional 250,000 flags are flown over capitol buildings commemorating birthdays, honors and special achievements. These cherished flags represent the past, present, and future of this great nation and the dedication of those sworn to protect it. Flag cases are the perfect way to preserve, protect, and proudly display these cherished memories. 

Flag display cases are usually made of different types of wood such as oak, walnut or mahogany and come with a glass or clear front so you can see the flag. Flag cases generally come with engraved metal or brass plates on them.
The typical memorial flag (casket flag) measures 5′ x 9.5′, however flag sizes do vary. Commemorative flags typically measure 3′ x 5′ or 4′ x 6′.  Flag cases are designed to fit one size or the other, so it is important when choosing your case to know the size of your flag you have selected to go into a flag case.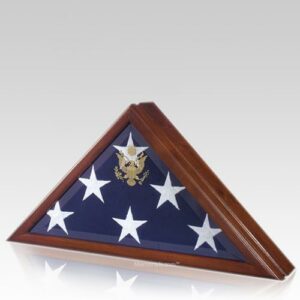 Any government issued flag should fit most standard sized flag cases. Your flag should be folded according to strict, historic traditions. Wall mounting kits are included with all of our flag cases, but you should also consider displaying your flag case on a pedestal that, by elevating the flag and flag case, focuses the attention to the flag. A variety of beautiful pedestals are also available for the flag cases that can be personalized the names, dates and a service emblem. Engraved plates can also be attached, with an adhesive back, to the flag case itself.
Another consideration is where the flag case will be displayed. While most of flag cases may be mounted to a wall, some flag cases are more suitable in a mantle or table display. Larger flag cases, particularly those which include a "shadowbox" or additional area to feature medals, patches, pins, or memorabilia can weigh in at upwards of 30 pounds when filled, so caution should be taken when wall mounting these models of flag cases.
Flag cases are ideal for current or retired military or other uniformed service people and can also be used to display medals and other items of memorabilia such as medallions, coins photos, pins, citations, badges etc. Flag cases also make for good gifts or for use at flag retiring ceremonies. Flag cases are a great way to display, preserve and protect cherished memories.
To military veterans, flag cases are of great importance. Fortunately for them, there are many to choose from. Whether it is a triangle flag case, one with decorative swords, one with a decorative plaque, or many others, the veteran is sure to find one to his liking.
One of the most popular choices with veterans is the triangle flag case. This follows the proper shape that a flag should be folded into. These flag cases can come specially made with a bronze insignia of whatever branch of the military the veteran was in. These flag cases often also come with a U.S. Constitution grafted onto the back of the inside. This may also be one of the most affordable flag cases, and can often be purchased for less than $100.
The most glamorous flag case may be the one with swords. This comes in two fashions. The swords can either be laid on their sides or pointed downward in an X formation. In both instances, the swords are covered by the glass case. These flag cases have an air of classicism to them, hearkening back to the days when a man's sword described his life. This is a flag case sure to become a cherished family heirloom, but, needless to say, it might be a good idea to keep it out of the hands of children.
Another exciting flag case can be lined with awards. These will no doubt take the veteran down a fond tour of memory lane as he remembers his victories and near misses. These flag cases are a clear choice for anyone who made a career out of being in the military. Perhaps it may even do a service to the soldier's younger family members, encouraging them to do even better.
A very colorful flag case comes as a stand, with room for flowers beneath it. These flag cases, not unlike the American flag itself, well combine honor with beauty. These flag cases are made of a polished oak, and will fit well in any living room.
Another flag case of great beauty comes with a certificate of authenticity, signed by the President of the United States. These flag cases come in a beautiful mahogany box, and are pointed at the top, so that the flags can remain in a triangular formation.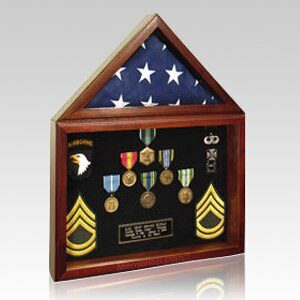 For veterans who want a little of everything, there is the "Capitol Memorial Flag Case." These flag cases have the triangle for a flag, and a place in the center for awards. Also, these flag cases have a place for the sleeves of the uniform, and a bronze plaque with the veteran's name, the branch of the military he served in, and perhaps the years in which he served. These flag cases have a beautiful background of dark green, and come in a polished walnut frame, which will go well along any wall, perhaps next to a bookshelf. These flag cases are not nearly as pricy as one might think, and can often be found for less than $200.
Similar to this is the "Military Veteran Flag Case." This one however comes in an oak chest. These flag cases will present a great opportunity for grandparents with a military background to tell their grandchildren about what they did. With room for medallions, a flag, and even a uniform, veterans to talk about their experience with pride.
A flag case grounded in traditionalism is the "Flag and Medal Case." These cases feature the flags on one side, at an angle, the medallions in the center, and room for a picture on the other side. With their bright red backgrounds, and cherry wood trim, these flag cases are practically museum quality.
Most who buy flag cases are veterans, but certainly not everyone. Flag cases are also available for Police, fire fighters, Boy Scouts, and ordinary citizens. These come in oak, walnut, and other types of wood, and have a whole array of brightly colored backgrounds. Flag case makers typically have an amazing flexibility as well, and are usually open to customer's suggestions. This makes it even more certain that flag cases will be custom made to fit veterans specifications.
When a soldier is killed in action, it is standard procedure for troops to present a flag to the departed's family, after which they will want to get a flag case. This however is by no means the only time that one can get a flag case. These flag cases are also a great birthday or Christmas present. As the veteran sees this, he will no doubt know how much his family appreciates all of his hard work in the military, with their gift of a flag case. He may also reflect, when he sees the flag, on the sacrifices that he has gone through to protect the country that it stands for, and he is likely to love America even more.
A truly futuristic flag case, best for departed soldiers, features a triangle divided into four sections. On the far left end, the bars from the deceased's uniform can be shown. On top, flags are neatly tucked in. To the right, the medallions that the departed earned can be neatly displayed, and in the center, is a picture of the departed. These flag cases can also be propped up easily by holders that come with it. Not only that, this flag urn comes in a stylized oak, and fits well in front of an American flag background.
Flag cases also come with engravings along the sides. This is the essence of style, and reminds one of the ornately columned buildings that line the nation's capitol. This flag case combines style with substance, and will make a stately addition to any home, perhaps resting above the mantelpiece over the fire place.
A photo frame flag case is for the veteran who admires simplicity. These flag cases are smaller, but also somewhat ornate. These flag cases fit in well among cherished family pictures, and seem to be pouring from the brim with sentiment and priceless memories.
Diamond flag cases are also quite beautiful. Available in walnut, oak, cherry, or mahogany, these flag cases are unique in that the flags actually appear larger than the medallions. From boot camp, all the way through the military, modesty and humility is encouraged. A diamond flag case represents these values, by focusing on that which is of greatest importance, the American flag. This flag case may be the best of any to provide a window into the heart of a soldier, and come in a wide array of shapes and sizes.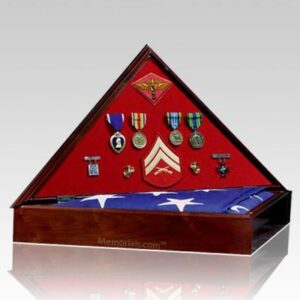 Also of interest to the flag case lover should be the "Heritage Flag Case." With its smooth, mahogany appearance, the flag is neatly tucked away underneath the lid. On the top is a bronze emblem of whichever branch of the service the deceased served in, as well as a plate with his name and rank. There is also room underneath this for a quote from the veteran, perhaps a few words that sum up his time in the military. Every military man has a bit of wonder in his heart upon enlisting, as though he sees the world through new eyes. This flag case and especially the quote will allow veterans to relive that wonder, and recapture the magic.
Recently, flag cases commemorating historic events such as World Wars I and II, Korea, and Vietnam have also begun to be made available. If a loved one served in any of these wars, a flag case such as this is sure to radiate sincere appreciation. Even if they did not, he will surely know that loved ones understand his love of military history. These flag cases are perfect for anyone who has kept an eye on American foreign policy throughout the 20th century, regardless of whether or not they served in the military.
"Display Base Flag Cases," fit well on any coffee table. With their flat appearance, these flag cases are perfectly symmetrical, and have plenty of room for all of the awards the veteran has earned. Not only that, a flag can be placed in the back of the case. This flag case, which comes in either oak or walnut, makes a perfect conversation starter, and will allow veterans to recount their many heroic efforts in combat. Veterans have every right to be proud of their service to America, and this flag case will allow them the opportunity to live their exciting memories once again.
The "Mini-Deluxe Flag Case," is modeled after the flag case given to Nancy Reagan after President Ronald Reagan's death. One need only take a look at it, with its sleek mahogany style, and the flag placed prominently in the center, to know that there is something Presidential about it. There is even a Presidential Seal at the top of the glass window. These flag cases are remarkably affordable, but are also for those who are truly patriotic and love America with all of their hearts.
Some flag cases are even large enough to fit a full uniform. Lined up against flags, these flag cases offer a very descriptive picture of the things that a veteran valued as he served America. Amazingly, even after he is gone, this flag case will still help friends and relatives to learn and better understand him.
Although it is far more common to place an American flag in a flag case, there are also those who work in state governments that will place their own state flags in the flag cases. To do this reflects not only out of the box thinking, but also shows the deep devotion that one had to the people of their state.
For the avid gardener, there are even flag cases that can be made to fit into a place next to the flowers and the trees. This flag case is well designed to stand up against any of the elements, and it makes a lovely part of the garden, perhaps in a corner that it can have all to itself. These flag cases are especially poignant if the veteran is departed. It will be as though he can now enjoy in a new way the birds, the flowers, and all of the wonderful elements of nature.
Flag cases are also available for the devout Christian. These feature a maple wood cross holding up a triangular flag case. For many in the military, the terms "God and country," fit together like a hand and a glove. Now in this flag case, they are meshed together in a perfect fusion, reminding the veteran of how God has truly blessed America. These flag cases are truly unique, and will have veterans singing "America, America, God shed his grace on thee…"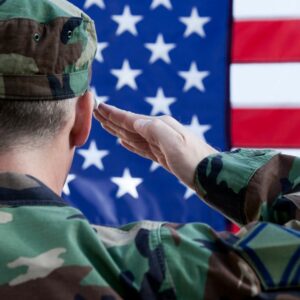 Laser technology has also added new features to flag cases that might not have been possible a generation ago. The "Stars and Stripes Flag Case" is an example of this. Magnifying the stars on the flag, this flag case is also dotted with laser drawn stars of its own. On the bottom is the name of the veteran, surrounded by two American flags. This is a flag urn for the space age.
Each year military members work hard in order that America might remain safe. Traveling into many hostile environments, these men and women snuff out America's enemies, both at home and abroad. Flag cases show appreciation for their willingness to place themselves on the front lines. Flag cases come in many different styles, but all reflect the same sentiment, that veterans should be proud of both their service to America, and to the flag that they have served. Although flag cases are a great way to remember a departed veteran, loved ones need not wait until then. Flag cases also make a deeply personal and warmly sentimental birthday or Christmas gift that will make anyone's day. Once veterans see these flag cases, they are sure to be filled with the thoughts of exciting memories that they cannot wait to share.